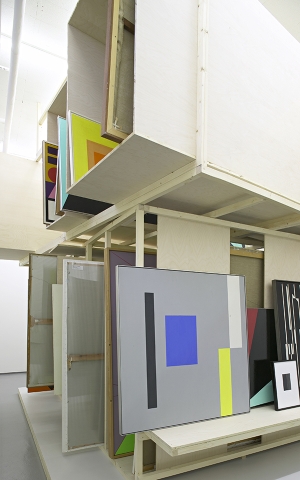 The Erling Neby Collection
of Concrete and Geometric Art
The Erling Neby Collection offers a personal presentation of Concrete and Geometric Art, as seen through the eyes of a Nordic collector. The collection focuses mainly on Scandinavian, geometric Constructivist Art, whose bright colours set new standards that are second to none regarding purity and succinctness.
Post-war, experimental artists around Europe often travelled abroad to search for new inspiration, and Paris was a central meeting-place for them. There, many were attracted by the art scene centred around the Galerie Denise René – the cradle of Geometric and Concrete Art at that time. This milieu led to the development of a number of distinctive Nordic artists, many of whose works of art are represented in The Erling Neby Collection, such as Lars G. Nordström and Paul Osipow from Finland, Gunnar S. Gundersen and Aase Texmon Rygh from Norway, Robert Jacobsen and Richard Mortensen from Denmark and Olle Bærtling from Sweden.
As with the artists, the Galerie Denise René was also the starting point for The Erling Neby Collection. It was here, in the early 1970's, that the first painting was purchased– a painting by Jean Dewasne, and soon afterwards, paintings by Victor Vasarely. Starting with several pieces by both these artists, combined with others by Josef Albers, Auguste Herbin and Max Bill, it gradually built up an international collection of classic works of art that set the tone of the collection and subsequent acquisitions.
The Collection also embraces other exciting artists, such as the Americans John McLaughlin, Ludwig Sander, Leon Polk Smith and Bourgoyne Diller, Aurélie Neumours from France, Ilya Bolotowsky from Russia and Horia Damian from Hungary. A core section consists of pieces by Nordic artists, which contribute towards the distinctive character of the collection. Of greatest note in this connection is the unique collection of creations by Sweden's great concrete artist Olle Bærtling. The Norwegian artists Bjørn Ransve and Arne Malmedal are also well represented. On the fringe of this collection, we find works by Olav Christopher Jenssen and Jan Groth, whose idiom in no way can be described as concrete, but whose inclusion in the collection creates new vibrations and tensions.
The sculpture, the collector has made several choices that distance themselves somewhat from a strictly concrete idiom too, where the fascination for Kinetic Art is reflected in pieces by Jesus Rafael Soto, Carlos Cruz-Diez, Marchel Floris and Sergio Camargo, while creations by Emilio Gilioli and Takashi Naraha introduce a softer side to geometric, abstract art. Alongside these, The Erling Neby Collection has also a collection of graphic art, photography and other pieces on paper, which even further strengthen the main tendencies and artistic styles of the collection.